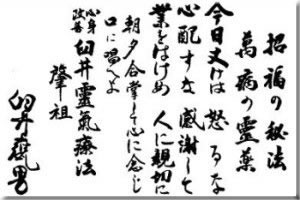 "Reiki Healing" is a very simple but powerful healing
method using universal energy
for everyday life.
It is not only a healing method
but a way of life itself.
Anyone can do it.
Everyone can benefit
especially therapists and mothers.
GENDAI REIKI Ho is the beautiful harmony of
Japanese traditional Reiki with
Western Reiki (Hayashi to Takata lineage) founded by Hiroshi DOI.
—Gendai Reiki CDs and Books
—Videos about Gendai Reiki & Doi Sensei